Projects
Unit Train Unloading Terminal Built for Productivity.
Location: Petersburg, VA
Materials: Potash
Material Handling Rate: 500 TPH minimum transfer capacity
Unloads double pocket railcars simultaneously
Stacker conveyor capable of filling multiple domes
Self propelled tram rotates stacker
No pits required for undertrack conveyors
Covered conveyors for inclement weather operating
304 stainless steel chutes, spouts, and guards
Wilson's commitment to customer service in terminal design enabled them to provide the design, equipment, and installation for this project shown for Alliance Agronomics in Petersburg, VA.
Once involved in the project, Wilson designed the terminal equipment to provide the most reliable and economical unit train unloading system to meet the customers needs.
Two 36" wide stainless steel flatwire chain undertrack conveyors were utilized to unload two hoppers of jumbo cars simultaneously at a minimum rate of 500TPH. Each conveyor is able to operate independently of the other, reducing the chance of downtime.
The conveyor hoppers are constructed of heavy gauge steel, continuously welded to provide a watertight enclosure and are poured in concrete in the road bed. This design eliminates the need for a pit, therefore eliminating the water problems related to pits.
As with all of Wilson's undertrack conveyors, these units run at a slow speed and carry a deep bed of product. The slow speeds combined with a large drive sprocket diameter ensure longer life of the flatwire chain.
The undertrack conveyors discharge product onto a 200' long 30" wide truss type stacker conveyor which is capable of transferring the material to either of two dome buildings at a minimum rate of 500 TPH.
The conveyor frame is a box truss type design which is continuously welded (no skip welds) with a 30" wide catwalk welded on one side full length.
Hinged belt covers were provided which open independently for easy access and enables product to be transferred during inclement weather.
The conveyor is mounted on a heavy-duty self-propelled tram and the tail is mounted on a pivot support. A concrete track was provided for the tram runway to ensure smooth rotation from dome to dome.
This project is another example of how Wilson's innovativeness and quality design has provided their customer with a "state of the art" transfer terminal. If you have needs for an inland or waterway transfer terminal or other material handling needs please give us a call.
It's Simple. Wilson Builds Terminals Better.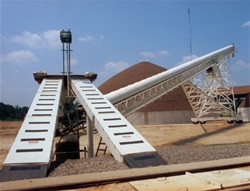 ---