No Chains or Cables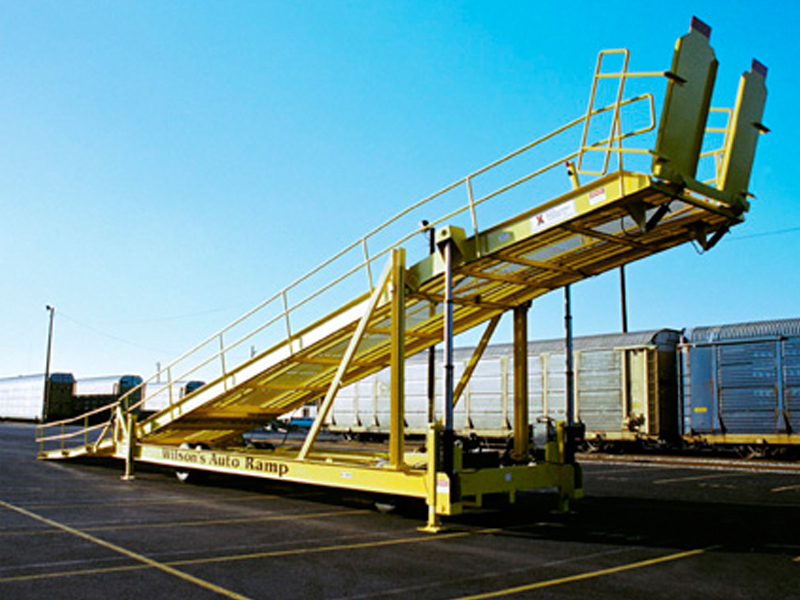 Wilson Manufacturing & Design, Inc. has revolutionized the auto ramp by eliminating the need for chains and cables. Dual telescoping hydraulic cylinders are utilized for raising and lowering the ramp. Check valves are installed on the cylinders to provide positive lock and handling power. Also, a mechanical, positive locking device is provided. Wilson's design has reduced the risk of the load being dropped by eliminating the danger of chain, sprocket, or cable failure.
---
Rugged Construction
The ramp is constructed of heavy duty 15" structural channel continuously welded and covered with 5 lb. non-slip, self-cleaning grating with support channels under the main traffic area. The opening is 100" wide for traffic with handrails provided on both sides full length to aid in pedestrian traffic. The undercarriage is constructed of the same heavy channels and mounted on four rear and two front 10 ply high floatation tires for added stability. The overall length of the unit is 84' and is designed with a maximum of 4 degrees concave angle change to accommodate the low ground clearance of many new vehicles.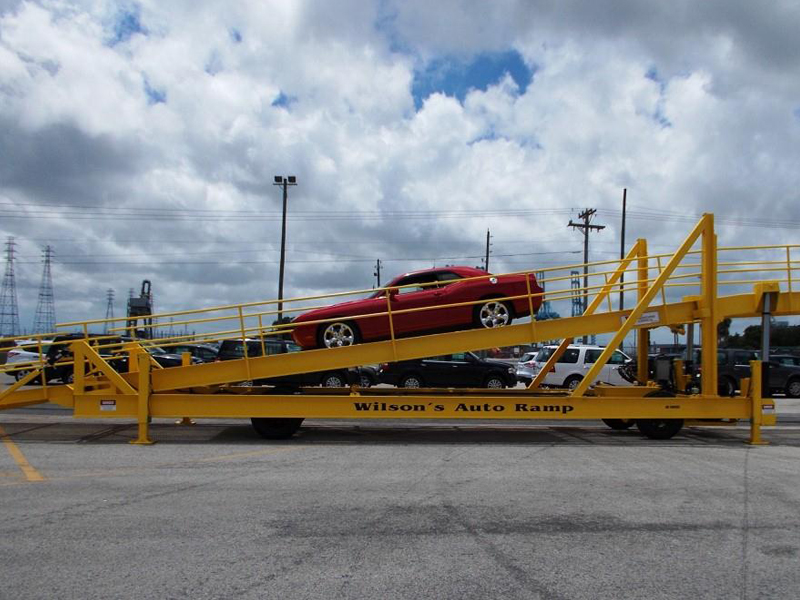 ---
Smooth Operation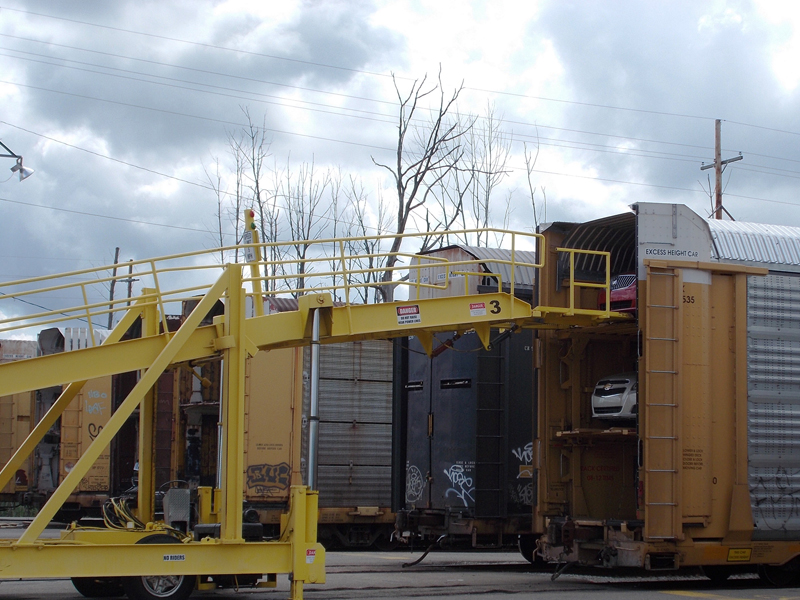 The approach and departure ramps and the bridge plates are hydraulically controlled and provided with flow controls for smooth raising and lowering. Four individually operated hydraulic stabilizers are welded to the outer frame to provide stability when the auto ramp is in use. Limit switches mounted on the stabilizers and on the approach and departure ramp energize a green light on the operator console when the stabilizers and ramp are in the up position and the unit is clear to travel.
---
Operator Friendly
Power steering is provided for easy maneuverability of the unit. The operator's platform is mounted to the side of the unit near the uprights for good visibility to the approach of the rail car. The auto ramp is self-propelled, driven by a hydrostatic drive and differential gear and stopped utilizing hydrostatic brakes. Simple, easy to operate controls are provided. The controls and gauges are conveniently arranged and labeled for operator convenience.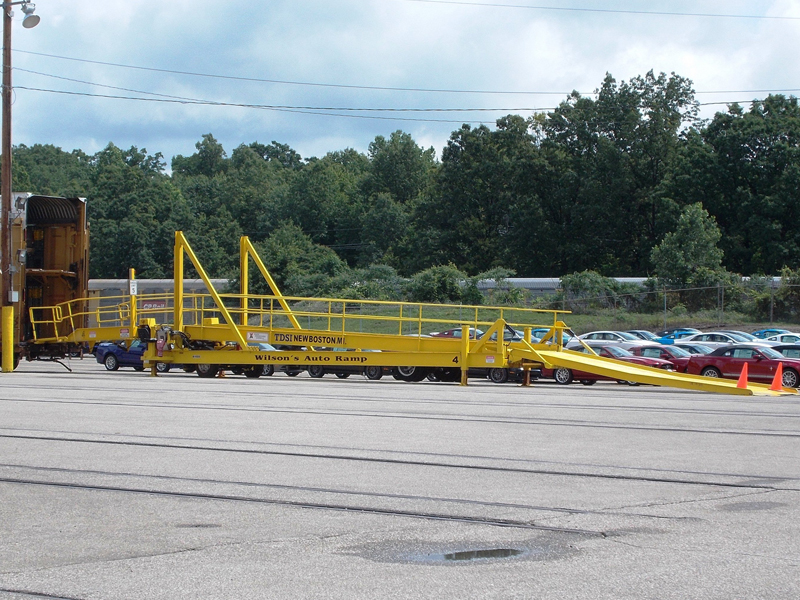 ---
Industrial Duty Engine
The standard unit is powered by a four cylinder, industrial duty, diesel engine. Engines are equipped with low oil pressure and high temperature safety shut down gauges and a plug in block heater to aid in cold weather starts.
---
Finish
All mild steel surfaces are sandblasted to a SP-6 commercial gray-white finish and coated with 8-10 mils of VOC compliant polyamide adduct high build epoxy to provide a durable finish and protection against fumes, mild acids, alkalis, salts, and solvents. The auto ramp is painted a highly visible safety-yellow with red markings on the approach ramp and bridge plates. Each unit is completed with safety, speed limit, and warning decals and the customer logo if desired.