Projects
Waterway Transfer Terminal
Location: Baton Rouge, Louisiana
Materials: Lime
Material Handling Rate: 300 TPH minimum
300 Tons per hour minimum transfer capacity
Truss & Support Design for maximum loading
Hinged belt covers for easy maintenance
Continuous welded truss design
30" wide catwalk with slip roof grating
Splitter transfers to either two tanks
Wilson has designed and constructed many types of conveyor systems for unloading barges such as the one shown, which was built for a company in Baton Rouge, Louisiana. Wilson provided the design, equipment, and installation of the equipment on this project to transfer line from a barge unloading hopper to two 500 ton storage tanks at a rate of 300 tons per hour.
A 325' long 24" wide belt conveyor was provided to receive product from the barge unloading hopper and transfer it to a distribution point above two 68' tall by 29' diameter tanks where it would go through a splitter capable of loading either tank.
The conveyor frame is a box truss type, designed with consideration of maximum loads and wind velocity of 110MPH. All joints and laps on the truss body are continuous welded (no skip welding) with 70 series filler wire.
A 30" wide catwalk is provided on one side of the conveyor full length. It is welded to the truss body and has slip proof grating welded in for the walking surface.
All of the components are designed for maximum efficiency and are top quality brands such as Rexnord, Dodge, and Goodyear.
The conveyor is provided with hinged belt covers which open independently for easy serviceability.
The charging hopper provided on the conveyor has detachable, adjustable skirtboard and clamps and is enclosed with a rain shield. The charging hopper is bolted on and is vertically and horizontally adjustable.
A two way splitter and spouting to the tank inlets are mounted to the discharge hood with weather proof connections at the discharge and tank inlets.
A full service platform is installed on the headend for full access to the head drive and splitter.
The conveyor supports are two and four column pipe design ex-braced with angles with all welds continuously around every joint.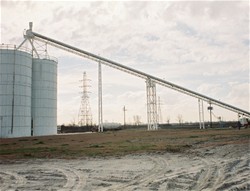 ---