Projects
Frac Sand Unloading & Storage
Location: Cleburne, TX
Materials: Sand
Material Handling Rate: 400TPH
Initial site development
Train unloading at 400 tons per hour with 30" belt conveyors
Unloading system is covered to provide clean operation in any weather
All conveyors have abrasion resistant lined chutes.
Transitional turnhead and chutes to transfer sand to multiple locations: 25 ton hopper, truck, or one of two domes
In-floor reclaim system to 25 ton hopper, truck, or one of two domes reduces front end loader time
Full automation from central control
Belt scales on all conveyors
Fully enclosed
Wilson Manufacturing & Design, Inc. provided design, equipment and installation for this Bulk Material Handling Equipment in Cleburne, Texas.
The facility provides train unloading equipment to fill two 100' diameter, 7,500 ton (15,000CF) domes at a rate of 400 tons per hour, or trucks can be loaded directly from rail.
One undertrack conveyor with hopper, by way of pit, is utilized to unload one railcar hopper at a time. The undertrack conveyor moves through a transition point with capabilities to transfer to either of two domes or a 25 ton truck hopper.
Wilson's unique reclaim system allows for reclaiming from either dome to truck loading hopper or the opposing dome. This reclaim system is housed in an underground tunnel under the domes, and minimizes the need for a front end loader within the domes.
Wilson Manufacturing & Design, Inc. worked direclty with the client and their subcontractors to fully automate this system. From a central control house, the client can transfer materials to either dome, hopper, or truck, weigh material traveling over belts and reclaim material from domes. This fully automated system utilizes a state-of-the-art control panel giving the client the ultimate in product transfer control & equipment performance.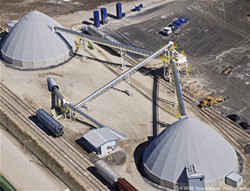 Click An Image to Enlarge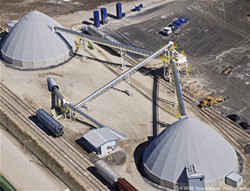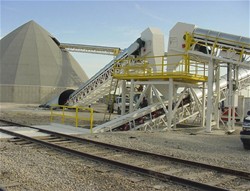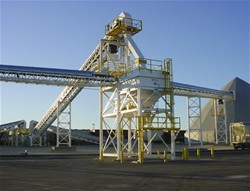 ---