Projects
Barge Loading
Location: Owensboro, KY
Materials: Gypsum
Material Handling Rate: 500 TPH
Initial site development
System for barge loading rated at 500 TPH of 70#/CF material
Truss and support design for 100 MPH winds
Pivoting transfer conveyor to shuttle conveyor design
Electric powered shuttle conveyor
Operator control room and platform
Lined outlet and discharge chutes

Wilson Manufacturing & Design, Inc. was involved in the design and construction of this gypsum load-out system in Owensboro, Kentucky. This project focused on a transfer rate of 500 TPH for the gypsum generated at a facility to barge. In order to fulfill the project scope outlined for this system, we incorporated the following key features.
This system was designed by Wilson Manufacturing's in-house design staff, and includes many Wilson Manufacturing & Design standard features such as:

Individually hinged type belt conveyor covers
Zero speed switches
Emergency stop cables & switches
Continuously welded joints
OSHA belt guards
Martin Dirt Hawg belt cleaners
Galvanized bar grating walkways
Catwalks, handrails, and stairs were provided for access to pit entrance, transfer conveyors, and support superstructures our design staff incorporated. A below grade load-out hopper is utilized to dump materials from plant operations onto a 320' transfer conveyor. The 14' square hopper is constructed of heavy gauge mild steel and lined with UHMW, with a structural bar grizzly to allow dumping from truck or end loader. Transfer conveyors, 320' and 115', were used to transfer gypsum at a rate of 500TPH onto a 50' retractable shuttle conveyor.The 50' shuttle conveyor is also rated at 500TPH, and is designed to traverse in and out to load barges. All four post and two post bends are constructed of heavy structural beams.
This system, and all of our other systems, are available to assist you in all of your loading needs. Contact Wilson Manufacturing & Design today for help in designing and completing your next project.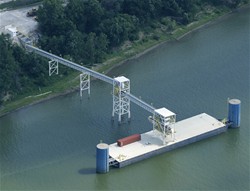 Click An Image to Enlarge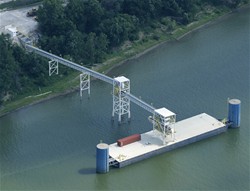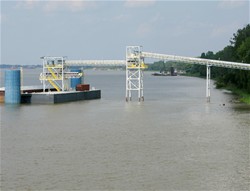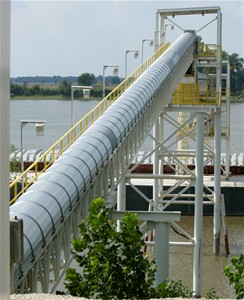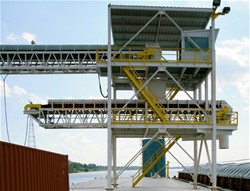 ---